Vrensted…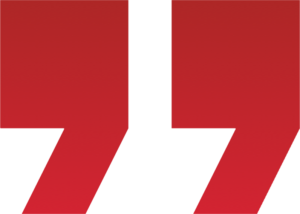 This main articles below was written i 2005. Today, 15 years later, the school is closed down. The school has been replaced by the town house.
The first mention of Vrensted, situated right between Brønderslev and Løkken, that can be found in existing documents dates back to 1340 at which time Ove Nielsen, a knight, sells his entire property in Vrensted in the district of JersleThe name supposedly has its origin in the time just after the period of the great migrations, which in North Jutland took place around AD 700. The beginning of the name, Wren, could have to do with the male name Wrang.
It could also derive from Wreni which in Old Danish means stallion, perhaps implying that Vrensted was known as the place of stallions. Or perhaps it was possible to catch wild stallions in the area, or perhaps one of the village farmers was known for his fine stallions. Perhaps the origin of the name Vrensted has to be found in some third explanation.
Apparently, even in the pre-Roman Iron Age, before the birth of Christ, there was a sizable settlement in the location, perhaps abandoned by its inhabitants due to emigration. Perhaps because the climate in Denmark had become too damp and cold.
This claim, that the place had an early settlement, is substantiated by the findings done in 1912 in connection with some excavations performed in order to build the railway between Hjørring and Løkken.
During the excavation of the ground on which Vrensted station was to be built, a large settlement was discovered, and from which more than 30,000 pieces of earthenware jars were lifted (100 jars were more or less successfully put together, in addition there was at least 500 different pieces of earthenware jars).
Once Vrensted was a station on the railway between Hjørring, Løkken, and Åbybro, which opened in 1913. Around this station new houses developed which eventually grew together with the rest of the village. Vrensted being a stop on the railway only lasted 50 years since the railway line was closed down in 1963.


Originally, Vrensted was a collection of houses and farms situated along a road. Later on a church was added, and in the Catholic era this was dedicated to Saint Thøger. Saint Thøger was the missionary who, according to tradition, brought Christianity to Thy and western Vendsyssel. He was highly regarded by the people in Vendsyssel, which is probably why the holy spring at the southern end of the cemetery dyke is also dedicated to him. Saint Thøgers employer was the king of Norway, Olav the Sacred.
This king must surely have had a lot of influence in the region.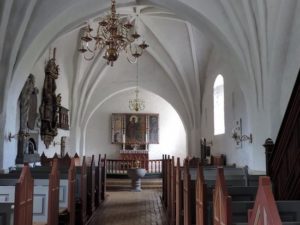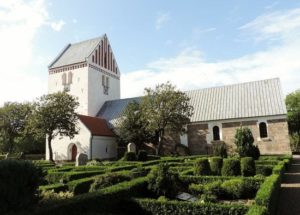 The white-washed church, situated beautifully in the village and overlooking houses and farms, dates back to AD 1100-1200. The church tower has red-washed (blaendinger), and once served as navigation mark and consequently had to be distinguishable from other church towers along the coast. Inside the church there is a beautiful crucifix from around 1200 portraying a victorious Christ wearing a royal crown. The crucifix has a circular image depicting little angels in a rosette. The three-section altarpiece of the church is painted by Niels Larsen Stevns. The writer Erling Kristensen had his confirmation in the church; he wore his grandmother's newly polished wooden shoes since he didn't own any shoes himself.
All farms and houses in Vrensted, except for a few, were copyhold farms placed under Børglum abbey church, located only five kilometers away. In 1806, when the renewal took place, only 50 farms existed in the village.
Vrensted has always been a junction in which roads from all four corners of the world have met. Traveling the poor roads of those days made any traveler thirsty, something the inhabitants of Vrensted made use of.
They erected speakeasies in which beer and schnapps were sold to travelers. As a result there was much drinking, many fights, stabbings, and murders, and legend has it that in 1600-1700 Vrensted was one of the most objectionable towns in all of Vendsyssel. Around 1700 people used to say that he who can walk through Vrensted unharmed, he can walk through Hell without being burned.
At one point the village also include a licensed inn, but it was shut down in the late 1700s. However, the people of Vrensted were not about to give up on schnapps, and many had their own illicit distiller equipment.
At one point the public authorities learned this, and one fall day in 1784 a commissioner of police and two license officers, among others, descended upon Vrensted to search the houses.
Entering town they were met by some angry inhabitants of Vrensted, some of them armed with shovels, forks, and hayforks. They gathered around the carriages of the public authorities, and as they began bombarding these stately gentlemen with rocks, they quickly fled along the road to Løkken.
The commissioner of police was hit by a rock in the back of his head and one to the side of his head, and one of the police officers sustained an injury in his head and his back. This sort of thing could occur when trying to deprive the people of Vrensted their schnapps.
In the 1600-1700s, several of the inhabitants of Vrensted participated in merchant marine business with Norway. This business was conducted from the coast outside of Løkken. In 1810, the son of Vrensted minister Axel Rosenkrantz Segelcke, Severin Vincens Segelcke, did business in the Norwegian Sørlandet. He lived in Vrensted but relocated to Lønstrup in 1812, where his son, Axel Rosenkrantz Segelcke, eventually would develop a thriving merchant marine business.
In front of the church there is a nice church pond wherein trees and houses are reflected, and as if this isn't enough, a couple of swans are majestically swimming on the calm surface of the water.
North of the church, there is a beautiful yellow wing bearing the name Ane Marie's House. This property from 1914 was originally a charitable institution for unmarried women or widows living in Vrensted parish. The construction of this building was paid for by Anders Olesen, who was a lawyer in Nørresundby, but who originated from Vrensted; the charitable institution was named after his mother, Ane Marie Andersen, nee Drivsholm.
After the reconstruction of the charitable institution Ane Maries House, it was to become an institution for children; the reconstruction itself was the result of the labor of volunteers. The children are now being looked after in institutions near the school (to the benefit of both children and parents). Children get to know both the personnel and the facilities of the school in an early age.
The lawyer also paid for a new church bell. It has the inscription: Once again the bell of Saint Thøger is calling out to old and young in the town of Vrensted. Anders Olesen also paid Larsen Stevns for the three-section altarpiece, and he donated his extensive collection of books to the local library. He died in 1929 and is buried on Vrensted cemetery.
Near the cemetery dyke there is an open field of grass. This was previously the site of a modest red brick house which once was the home of a rather peculiar business  a tower clock factory.
The manufacturer was Christen Bornholm, who lived from 1857 to 1936. As an advertisement he had placed a big clock on his house. Bornholm was an instrument maker, and he was characterized as brilliant. He made clocks for churches, railway stations, and so on. The local archive has an old photograph of the proud craftsman standing outside his house displaying a large clock. He is wearing working clothes and a big apron, and he is sporting a great mustache.
Vrensted has produced its own writer, A. C. Andersen, who has now sunk into oblivion. In his honor the town has named one of its streets after him. He lived from 1874 to 1928. He was a socially conscious writer and penned, among others, The Smallholder's Daughter,(Husmandens Datter). Also, the writer Knud Holst lived in Vrensted (died in 1995).
Vrensted had its own dairy work in the years 1890-1970, called "Lykkens Prøve." This dairy work was situated on Vrenstedvej. The village hall, including a big ballroom, kitchen, and so on, is situated north of the dairy work. This is the home of a lot of activities i.e. lectures, bingo, and private parties, and the Association of Local History is housed in the "Farmers" Lounge,(Bondestuen).
Today Vrensted has a grocers shop, P. V. Marked. Once there were three grocer's shops, a co-operative society, as well as a butcher. Moreover, the town had two bicycle repair shops, two lumber shops, two barbershops, a tailor, a coach builder, and so on.
This decline in shops is mainly due to the fact that many people work in Brønderslev, Aalborg, and Hjørring, and people shop in these cities before returning to Vrensted.
In addition to the grocer's shop, Vrensted has a public school, a stadium, a vacation center, a pensioners association, an athletic association, a youth club, a music club, as well as  Vrensted and vicinitys riding club.