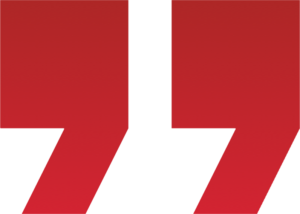 12-10-2005. Kl. 815 am, Eva and I drove over to pick up Gerald. We had coffee and donuts for the drive. Gerald had his own large (  Liter) mug of coffee and he was to be a driver. A few years earlier , Gerald had worked as a carpenter in De Smet South Dakota, so he knew the road well.
First we drove along small but long dirt roads to the west. It was because Gerald wanted to show me the village, Kathryn, where the siblings had gone to school and to church.
Then we drove south. Gerald is the one in the family who is most interested in genealogy and it turned out that he had collected some papers and even written something in a notebook. On this stretch we get a good talk about it and I am allowed to look in the papers. Here I find, for the first time, papers that my great-grandfather, Lars Peder Nielsen, got his Dannebrog cross on his 90th day. This I have been looking for a lot at home in Denmark. I find that Gerald and I have many common interests and we get to know each other well on this trip.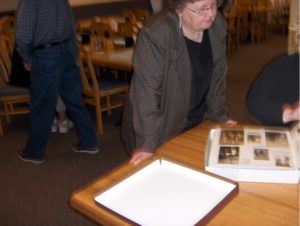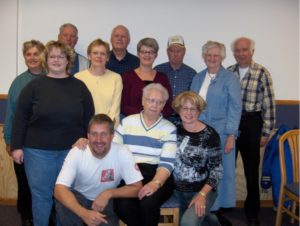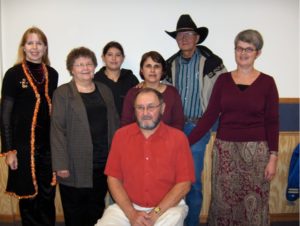 We cross the South Dakota border at 12 p.m., and as a surprise to Eva and I, Gerald drives us to a beautiful art museum just south of the border. Here exhibits an artist named " Redlin ". He paints typical Dakota paintings. Most cities in North Dakota and South Dakota have either a reproduction or or a painting by this artist. It is very interesting and the building itself is beautiful. I buy a book about the artist.
We come to Watertown and have to visit some family on Paul Andrew's father's side. That's Luella Richardson , age 91, and her five children with spouses. They are gathered here to meet me from Denmark. This is a lively place and everything is talked about and we take pictures and exchange addresses. Time flies by, and we have to drive on to Arlington .
In Arlington , we have to visit my mother's cousin, Mary Ann Liljegren . I first heard of her two days before I left Denmark. Eva and Gerald have not been in contact with her for the past 10 years. Now they have contacted her for my sake and that we can have a place to stay near Volga.
Mary Ann and her husband, Roy, take good care of us. We have dinner and then their children and spouses come to greet us. They don't know much about grandfather , Kristian Nielsen, a brother of my grandfather, Niels Lassen Nielsen. I promise to send the information I can find about him. It is a very hospitable family and some people I want to keep in touch with.
The next day, 13-10, we got an appointment with a man, Haward Lee, from the Volga local history museum. Gerald and I drive to Volga and meet him at 9am. He knows that I am looking for information about my grandfather, Niels Lassen, and have prepared our visit. I see maps of the city from the period when Niels Lassen was here and look at old photos. Newspapers have been found from the years around the turn of the century. I do not find anything specific about Niels Lassen, but it's a special feeling to be in the Volga and read in the same newspapers, as my grandfather also have read.
Besides the museum, we drive around and look at the city. It's a small town and we also drive to the town of Brookings , where there's a bigger bank I can withdraw money from.
We have lunch at Liljegrens, and then we drive west to De Smet . It was one of my wishes to see the museum of the Ingalls family from "The Little House on the Prairie". Now I find that interest I share with Gerald as well. There is not what he does not know about the books and the Ingalls family . We get a guided tour of several houses, and then Gerald drives us out to the cemetery where the Ingalls family is buried. Gerald knows it all, from when he used to work in De Smet .
Before night, we start driving north to North Dakota again. Along the way, Gerald shows us several sights, and he talks about a lot on a slightly alternative route. We visit  a Native American Reserve.
We end up eating late dinner in Kathryn, and then Eve just thought we should visit Diane and Jack on the way home. Here I meet Dorothy and Curtis for the first time. It's late before we leave Gerald and drive home to Eva. Here we share a beer and talk about our trip. I also have to get ready for a trip tomorrow to the capital Bismarck.
Related articles…
Rockey Mountians
Party in Valley City
The trip to the Capital
Saturday in Valley City
Visit to Kirsten in Boise
My time with Tim in Eugene
Last part of the journey